Contact
LymeDisease.org
LymeDisease.org
newsletter@lymedisease.org
Where
Westin Gaslamp Quarter, San Diego
910 Broadway Circle
San Diego, CA 92101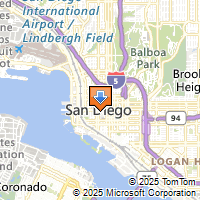 Driving Directions
It's so much more than Lyme disease
A conference for Lyme patients and their caregivers
Keynote speaker:
Westin Hotel, Gaslamp Quarter
Plus a panel of Lyme-treating doctors, including Therese Yang, MD; Erica Lehman, MD; and Neil Hirschenbein, MD.
Dr Richard Horowitz has treated more than 12,000 chronic Lyme patients in the last 20 years, with patients coming from all over the US, Canada, and Europe to his integrative medical clinic in Hyde Park, New York. He has coined the term MCIDS, or Multiple Chronic Infectious Disease Syndrome, to describe chronic Lyme disease, because of all the different factors that can be involved.
Learn from Dr. Horowitz and other Lyme specialists how the combination of Lyme, coinfections, biotoxins, food allergies and other conditions can make it harder for you to get well--and what you can do about it.
On-line registration, through May 2: $40
Registration at the door: $45